Who We Are
T & O Welding Services and Fabrication has been serving the 905 and 416 area code for approximately a decade with fast, reliable and customer focused services. Cumulatively, our welders' experience spans fifty plus years within the industry. They stand ready to provide a professional service to our esteemed clients.
Vision Statement
To provide high quality services that exceeds the expectations of our esteemed customers whilst adhering to industry standards.
Mission Statement
To develop long term business relationships with our clients by providing exceptional customer services through our highly skilled workforce and innovation.
Core Value
We believe in treating our clients with the outmost respect and loyalty.  We integrate honesty, integrity, and business ethics into all aspects of our business functions.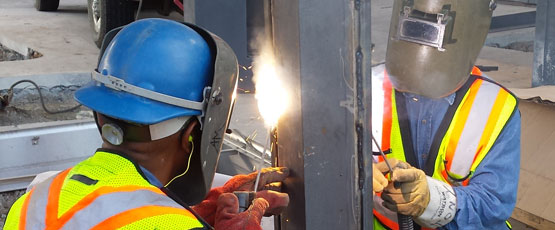 Certification
The company and its welders are certified by the Canadian Welding Bureau (CWB) and adheres to strict industry standards, codes and safety guidelines.
Equipment
Our workshop is equipped with the state of the art welding machines and equipment. Included are:
Metal Inert Gas (MIG)
Tungsten Inert Gas (TIG)
Shielding Metal Arc Welding (SMAW)
Oxy Acetylene heating and cutting equipment
Plasma Arc cutting plant
Drill press
Band Saw among other equipment